Who do you come to see in Energise and Why?
Linda McGuirk – Owner – With over 12 Years of experience dealing with Gaa and rugby teams, everyday injuries to the more professional athletes.  Nowadays Linda is known more to deal with Specialised conditions with the use of
Shockwave Therapy
and
Laser Therapy
, also providing
gait analysis and Prescription Orthotics
.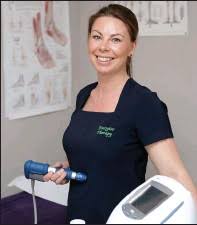 Linda is working Shockwave therapy for the past 5 years dealing with conditions such as Plantar fasciitis, Tendonitis – shoulder, achilles, knee's, hips, tennis/golfers elbow – Bursitis, bulging discs. Read more of the above conditions covered here
Linda's hours are Monday 9.30- 8pm, Wednesday 4.30-8pm, Thursday 9.30-8pm.
Sinead Wixted has joined the team since May '18. Sinead is a qualified Physical Therapist, specialising in Neuromuscular Therapy. She is passionate about helping her clients through traditional hands on methods including myofascial release, dry needling, joint mobilizations while also integrating Exercise Rehabilitation programmes into all treatments in order to restore full and pain free movement. Sinead's background is mainly in sports. She works with GAA, Rugby and Hurling clubs in the local community. Whilst sports injuries are a huge area of passion, she treats a wide variety of conditions in people ranging from 12 years to 84 years.
Sinead's Hours:- Tuesday 8am-8pm, Wednesday 8-4pm, Friday 8-6pm, Saturday 9-2pm.
We are also delighted to have Antoine Deudon an experienced Osteopath joining the clinic, this expansion is allowing Energise to offer all elements of body care with in one setting.  Antoine specialised and practiced in France before moving to Ireland. He brings with him a breath of knowledge, which will facilitate the demand we are seeing on a regular basis for Osteopathy. He uses a combination of joint articulation and manipulation for skeletal realignment . Antoine's emphasis is on restoring normal movement and pain free function for the over all body. Osteopathy is also a proven treatment for pregnancy, babies as well as the general population.
Antoine's Hours :- Thursday 8-4pm, Friday 8am 4pm, Saturday 8am-4pm
Antoine's Facebook page click here
Website where you can book online